Product Description
Compared with other Wi-Fi signals jammer, the 10W Powerful All WiFI Signals Jammer (2.4G,5.2G,5.8G) has more enhanced features and functionalities. This device is not only blocking the frequency of 2.4G, but also blocking the frequency of 5.8G. In other words, the blocking device can cover all of Wi-Fi signals.

Strong output power achieves 10W which helps this jammer to cover huge area - up to 50 meters. AC power adapter (AC100-240V-DC5V) allows this jammer to work day by day with no stop.

The powerful blocking device can cut off all WiFi signals. Do you want to experience the overall function? Please do not hesitate, take action. It will be your first choice.


Specifications:
Affected Frequency Ranges:
CH1 -2.4G1:2400-2450MHz;
CH2 -5.2G2: 5200-5725MHz;
CH3 -5.8G1:5725-5775MHz;
CH4 -5.8G2:5775-5825MHz ;
Total output power:10.0W
Jamming range: up to 50m, the jamming radius still depends on the strength signal in given area
Power supply: 50 to 60Hz, 100 to 240V AC
With AC adapter (AC100-240V-DC5V),
Dimension: 251x 140x 47mm
Weight: 5.0kg


Accessories
WiFi Jammer
AC adaptor
Antenna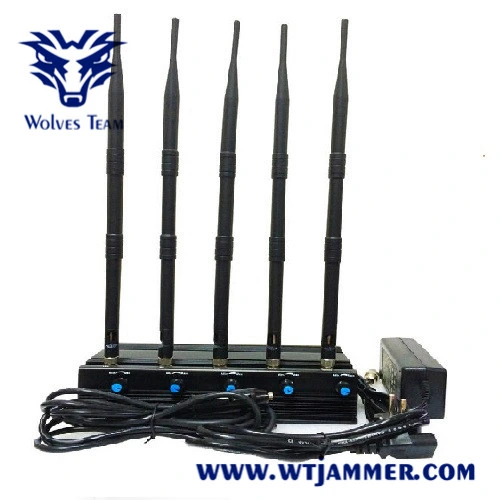 R&D Group in USA
We have strong and excellent R&D group in USA, who dedicated to the research and development of our new products.We are consumer-oriented and do our best to offer satisfying products to customers.
Manufacturer in CHINA
A full line of products - We have a full line of cellular jamming products from low-cost portable units to high-spec industrial units.

We are the specialists in cell phone Jammers and GPS Jammer, WIFI Jammer, 3G Jammer, 4G Jammer, Lojack Jammer, UHF/VHF Jammer, RF Jammer, Audio Jammer,Wireless Video Jammer and signal Repeater/Amplifier/Booster etc.We offer unparalleled professional service and advice for our personal and commercial products. 10+ years of industry experience makes us the specialists you can trust. We pioneered all kind of jammers online sales, and offer the best cellular jamming prices worldwide - guaranteed. We are a developer, manufacturer and reseller of cell phone jamming devices and signal Repeater devices. products include GSM Jammer, CDMA jammer, DCS/PCS Jammer, GPS Jammer, WIFI Jammer, 3G Jammer, Audio Jammer, Wireless Video Jammer, Dual Band Repeater,Tri Band Repeater etc.
Our Jammer type have Portable Jammers, Desktop Jammer, Prison Jamme, Vehicular jammer, Bomb Jammer, IED Jammer and RF Jammer.